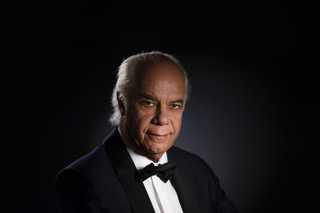 Pierre Réach
France
Over the years, Pierre Réach has earned a reputation as an exceptional pianist with a spectacular repertoire, including Bach's Goldberg Variations, Liszt's Transcription of Berlioz's Symphonie Fantastique, the Hammerklavier Sonata, and the "Les Quatre Âges de la Vie" sonata by Charles-Valentin Alkan. He is also a renowned teacher who enthusiastically conveys the quest for emotion through music. For the last twenty years he has been a tireless creator and organizer of artistic projects.
He first draw public attention when he earned first prize in the Olivier Messiaen Competition. This title was followed by prizes at the Pozzoli competition in Italy, the Maria Canals and Jaén competitions in Spain, and a medal at the Arthur Rubinstein competition in Israel.
After studying with Yvonne Lefébure and Yvonne Loriod at the Paris Conservatoire, Pierre Réach received further artistic enhancement with Maria Curcio in London, from 1975 to 1982. For several years, he also received regular mentoring from legendary teachers as Arthur Rubinstein, Alexis Weissenberg and Paul Badura-Skoda. In his broad repertoire, ranging from Bach to Messiaen, through Mozart, Schubert, Schumann and Chopin, the works of Beethoven have always held a relevant place. Having mastered all 32 of Beethoven's sonatas, which he has always performed with great passion, is something Réach sees as a key achievement of a life built with great tenacity, hard work and an unmeasured commitment to excellence.
Pierre Réach has performed recitals and concerts throughout Europe, Japan, the USA, Israel, Russia, China (which he usually visits four times a year) and South Korea. He has performed with the Radio France Philharmonic, the NHK Symphony Orchestra (Tokyo), the Osaka Philharmonic Orchestra, the KBS Symphony Orchestra (Seoul), the Hallé (Manchester), the Richmond Symphony Orchestra (Virginia), Pomeriggi Musicali (Milan), the Symphony Orchestra of the Balearic Islands, Barcelona Municipal Band, etc. He has several recordings of works by Charles-Valentin Alkan, Bach, Mozart, Schubert, Beethoven, Olivier Messiaen, Jean Cras, Stravinsky, Mendelssohn, Mussorgsky, etc.
Pierre Réach is nowadays regarded as one of the leading interpreters of the Goldberg Variations by Bach. In January 2005, he was named Professor Honoris Causa of the Shanghai Conservatoire, and holds much sought-after masterclasses across Europe, the Americas and Asia. He currently teaches piano and chamber music at the Catalunya Superior School of Music (ESMUC).
His concert, broadcast on TF1, given on the rooftop terrace of the 2,800 meter high Pic du Midi Observatory in France, when he played a grand piano conveyed there by helicopter, will always be remembered. This concert gave rise to the Festival Piano aux Pyrénées in Bagnères de Bigorre (Hautes-Pyrénées), soon renamed Festival Piano-Pic (www.piano-pic.fr). Pierre was also behind the creation of the Printemps Musical de Provins et Piano, inCastelnaudary, and the Vila-seca Music Festival (Spain). He has been a Steinway artist since 1982. In March 2015, Pierre Réach received the Chevalier dans l'Ordre des Arts et Lettres medal from the French Ministry of Culture.